Disconnect the connection, manipulate the data and then post the changes to the data store by establishing a connection again. This approach is possible in ADO.NET using dataset object. Dataset object helps you to manipulate on set of records obtained from disconnected data store.
The architecture of dataset object is shown below: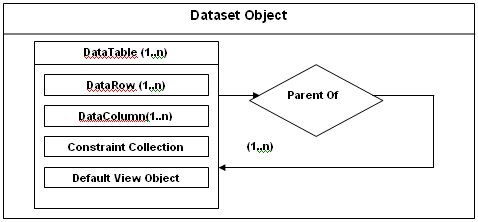 In the diagram, 1..n means "one or many instances". For example, DataTable(1..n) means that Dataset can contain one or more DataTable objects. And the rhombus indicates parent/child relationship that exists between the DataTables.
FREE Subscription
Subscribe to our mailing list and receive new articles
through email. Keep yourself updated with latest
developments in the industry.

Note : We never rent, trade, or sell my email lists to
anyone. We assure that your privacy is respected
and protected.
Visit .NET Programming Tutorial Homepage
______________________________________________________

Recommended Resource